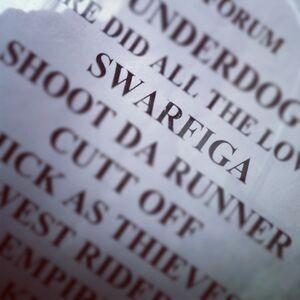 Swarfiga was written by Sergio Pizzorno and is the 3rd track on West Ryder Pauper Lunatic Asylum.
Background
Edit
Named after industrial hand cleaner Swarfega, the song is an instrumental interlude that was originally part of Where Did All The Love Go?. When that evolved, the outro was cut and turned into a separate track.[1] According to Serge, Swarfiga is meant to make the listener think "Where's this album going?"[2] while the inspiration behind the title also means it's "wiping the slate clean" after the previous track.[3]
Swarfiga was played during most of the West Ryder Pauper Lunatic Asylum Tour, following Where Did All The Love Go?, often with Serge improvising vocals. A slightly modified version of it was performed a few times in the second half of 2012.
"It's a title we've been throwing around for ages. Swarfiga is a strange word. I've always loved the shape of it. And when you find out what it [Swarfega, industrial hand cleaner] is you have a little chuckle. I also like the idea of washing your hands, getting rid of the dirt. It came out because originally Where Did All The Love Go? had this huge 2001 sci-fi intro and then this mad ending. We got rid of the intro but we turned the ending into Swarfiga and left it as a separate instrumental."

— Serge (Q Magazine, December 2009)
"It's 21st-century drum'n'bass psychedelia, like Doc Scott or something. It's hypnotic dance with rock'n'roll guitar on top – and a scream at the end, like my bollocks have been pulled off."

— Tom (ShortList, 4 June 2009)
Albums
Live Releases
Edit
References
Edit
↑

Q Magazine, December 2009

↑

NME, 13 June 2009
Community content is available under
CC-BY-SA
unless otherwise noted.